Housing For The Poor: The SANPASADA Experience
---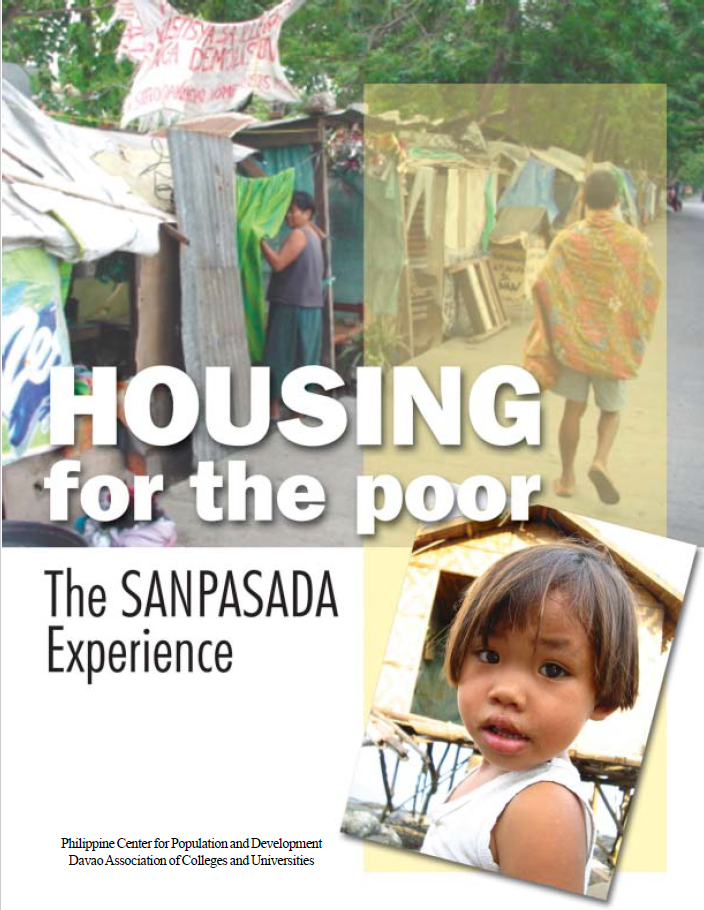 Shelter is a basic need that becomes more and more difficult to provide especially for local government units (LGUs) that are faced with burgeoning populations made more complex by the influx of people seeking better opportunities in urban areas. Thus we see shanties along coastal barangays regularly buffeted by monsoon waves, homes built so close to each other such that whole communities become fire hazards, shacks that host more than one family each, the residents of which are faced with eviction with no assurance of relocation where livelihood opportunities are within reach.

Families in growing towns and cities are often faced with a choice of giving up comfort for a roof on their heads. This situation is not strange to us as we see communities of houses packed side by side, with just alleys and wooden bridges as means of access.

Because of the opportunities in urban areas, migration is inevitable and housing demands by the poor outstrip LGU resources. This is compounded by incessant conflict situations in neighboring provinces, sending families who dream of peace to seek the security of the more peaceful, consequently more prosperous towns. That urban land prices where livelihood opportunities abound are more expensive and beyond the means of the poor force them to find shelter in inner city areas where even the most basic sanitary facilities are already a luxury.

This situation prevails in the urban cluster of Santa Cruz in Davao del Sur, the Island Garden City of Samal (IGaCoS) and Panabo City in Davao del Norte, and Davao City or SANPASADA. Today, 30 percent of the households in SANPASADA live in informal and illegal settlements. Many live in danger areas – the seaside, along rivers and creeks, and in already congested neighborhoods.

Work opportunities and availability of basic services are the major criterion in homesite selection for the poorest. With their limited skills, work in an urban setting means manual labor, which can be had near ports, industrial areas, and commercial centers, areas where land prices are highest. With no means to purchase lots and homes of their own in these high-value lands, families make do with what they can afford – the illegal shanties and rooms inside these shanties on land they cannot own.

A stumbling block in measuring how vast the problem of informal settlers is in SANPASADA is the lack of data that can provide information on future policy changes. Basic statistics on localities and shelter programs are generally unrelated, not well monitored and do not give a tangible picture of the problem at hand. Existing shelter programs are partial and unlinked, many miss their targets, and there are few responsive initiatives for providing today's and tomorrow's demands.

All this taken together has created a housing demand and backlog that continue to increase way beyond the LGUs' financial
and policy-based capabilities.

This study thus strives to gather measurable data and significant facts on the basic needs required by the informal settlers
that can provide doable policies and solutions and sow concern and corresponding contributions among a wider community
through improved information dissemination. It investigates the status of the housing sector of each LGU in the context of: a) socio-demographic issues, b) socialized housing laws and regulations, c) security of tenure, d) finance and affordability, e) housing market, and f) physical stock in a bid to get a good grip of what has already been perceived as a growing problem but which has not yet been molded in comprehensible terms.